About us

Dear kind parakeet and parrot friends,

Parrots are our life - since our childhood we have been dealing with crooked beaks and are fascinated by these feathered beauties. It all started with the breeding of parakeets and cokatiels, later with macaws, cockatoos and other big parrots. We have learned that every parrot has its own personality. During our stay in the US and our work there at a parrot breeding station with several hundrer parrots we received a comprehensive insight into "the american way" of parrot husbandry.

After our return to Germany we quickly realized, that barely anyone provided parrot specific products in Europe. Beginning with the import of parrot cages, toys and food from the US for our own parrots, quickly a buisness emerged as more and more of our parrot owning friends also wanted to own the same items for their birds. Therefore in 1996 the company Papageienparadies Wagner including our online shop was founded. Throughout the following years it showed, that birdowners fromm all over Euope requested our products.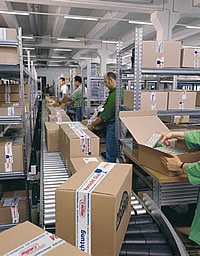 Over time, we have developed more and more of our own products, as the chinese proverb states "the better is the goods enemy", these displaced many of our products we offered until then. Since 1998, we have been designing and producing bird cages and avaries under the brand name MONTANA and distribute these exclusively throughout Europe. In cooperation with world famous nutrition experts, we have developed our own food and vitamine supplement line. This was followed by our creations of species-appropriate wooden and acrylic toys, as well as therapeutic perches, swings and accessoires. All materials throughout our production process are tested and harmless for parakeets and parrots. When selecting the chain links, we have paid close attention to only use chrome metals or stasinless steel. The commercially available high-gloss galvanized chains are to be rejected as they can cause poisoning. In 2000 we started producing parrot food. We process organic raw materials in regular food quality all round in our own production facilities and produce delicious and wholesome pellets for birds. We did not try to mimic pellets of american origin, instead we optimized these. In collaboration with experts from well-known German and international universities, a special recipe has been developed for a close-to-nature diet tailored to the natural needs of parakeets and parrots.


In order to round off the range of products offered through Parrotshop, we included products of other well-known manufacturers in 2007 at reasonable prices.

If you happen to have any questions about any aspect of bird keeping and/or our products, my team and I will be happy to give you advice and assistance at any time.
Sincerely yours,
Michael Wagner