About us
Dear animal lovers,
Parrots are our life - we have been concerned with parrots since childhood and we are enthusiastic about these feathered beauties. At the beginning with budgies & cockatiels, later with the breeding of African gray parrots, macaws & cockatoos, we learned that every parrot has its own personality.
From the initial import of bird homes & toys from the USA for our birds, a trade gradually developed, as more and more of our friends also wanted these products. So in 1996 the "Parrot Paradise" by Wagner and this online shop came into being. Just one year later we started our bird toy production under the HappyBird® brand.
Strong brands
We have been manufacturing aviaries and bird shelters under the brand name MONTANA® since 1998. Two years later we started with birdseed. Our search for a suitable dog bed for our four-legged friends Kimba, Abby & Duffy prompted us to found the Wallace and Jones® brand in 2006, under which we produce fashionable dog mats and beds. The Larsson-Farm® brand was soon added, under which we have been offering antler chewing sticks and innovative chewing items since 2012.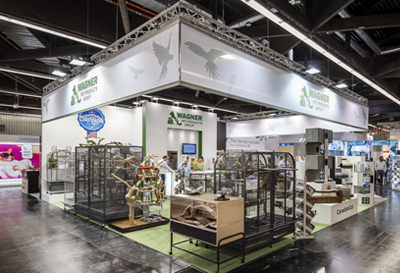 Excellent products
Canadian Cat Company® is the name of our cat brand under which we produce high-quality articles for cats, including design scratching boards, scratching posts, running wheels and cuddly pillows. We are particularly proud of the "GERMAN INNOVATION AWARD 2021 SPECIAL", which was given to us for the Montreal cat furniture - manufactured on our own CNC system "Made in Germany".
Products at specialist retailers
You can find our products at retailer branches like Fressnapf, Megazoo, Zoo & Co and Foodhouse. Some of our products are also represented at Globus, Hagebau, Dehner Gartencenter & Hellweg. Our MONTANA® cages are also available online at Zooplus.de. You can also find our entire product range at Amazon.de, Otto.de, Ebay.de and Kaufland.de.
Great customer satisfaction
For 25 years we have been offering you only the highest quality products for your animal friends in our online shop. To round off our selection of products in our Parrotshop, we also carry products from other well-known manufacturers and offer them to low prices for you
If you have any questions about bird keeping or additional questions to our products, Me and my entire team are at your service with help and advice at any time
Michael Wagner